Niterra Philippines: Leading Technology & Innovation.
With over 80 years of automotive expertise, we are driven by extreme dedication to performance and quality. From OEM to aftermarket, our people push the boundaries of innovation to bring the latest technologies to market under the NGK and NTK brands.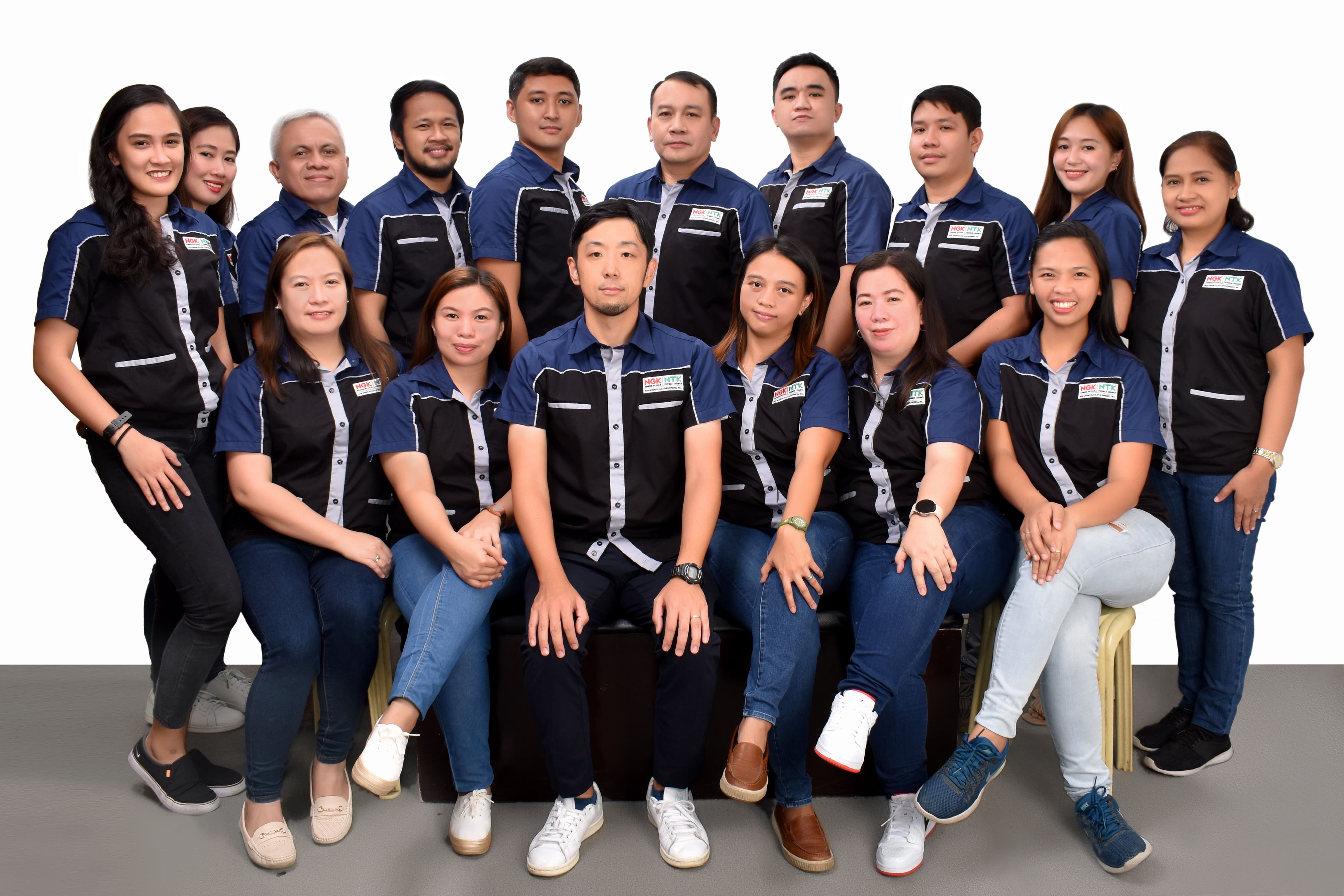 Our History
Niterra Throughout the Years
2000s
2018

10th Year Anniversary of NGK SPARK PLUG (PHILIPPINES), INC.

2008

Established NGK SPARK PLUGS (PHILIPPINES), INC.

2006

The company reached its milestone after producing 10 billion domestic units of NGK Spark Plugs.

2005

Started the manufacture of hydroxyapatite cement.

2004

Started the manufacture of new high temperature ceramic glow plugs.

2001

Started the manufacture of oxygen concentrator for home oxygen therapy.

2000

In year 2000, the Iridium IX plug was launched for the aftermarket. The plug used an iridium alloy in an ultra-thin center electrode, which improved ignitability and acceleration as well as fuel efficiency.
1990s
1998

The production of G-Power began in 1998. It used platinum alloy in a small diameter tip at the center electrodes and ground electrodes with cross-sectional shape resembling a trapezoid, achieving improved ignitability. This platinum spark plug was then used by automotive repair shops overseas.

1997

Komaki Technical Center started their operation in 1997 and with this, they also started to manufacture NGK Iridium Plugs.

The first "Iri Series" in the world was developed to reduce the fire extinguishing effect when the electrode takes away the energy of explosion at the time of ignition. Drivers seeking for a run to upgrade patronize the latter series.

Manufacturing of parts for semiconductors and organic IC packages also started and were offered for electronic smart devices.

1995

NGK Power Cables were introduced in 1995. These are extremely low resistant that they can deliver superb ignitability and acceleration. They sustain a minimum level of spark energy loss and provide excellent starting and acceleration performance, idling stability, and fuel economy.

1991

Total number of production of NGK spark plugs exceeded 5 billion units.

1990

Bioceramics used for bone prosthesis and artificial femoral heads were developed in 1990.
1980s
1986

Igniter plugs for rockets were produced in 1986. It is installed in the combustion chamber near the supply ports of hydrogen and oxygen. A silicon nitride insulator was used to withstand thermal combustion shock.

1985

Ceramic type glow plugs were developed and manufactured. We adopted to ceramic heaters with high-temperature durability and heat resistance.

1982

NGK Spark Plugs started to develop and manufacture long-life platinum-tipped plugs in 1982. The use of platinum for the center electrode and the ground electrode discharge was successful in reducing the electrode wear. It is the product telling the beginning of the new era of spark plugs.

During the same year, a zirconia oxygen sensor was also developed to measure the level of oxygen in automobile exhaust gas.

● Established KAMIOKA CERAMIC CO., LTD.

● Established TONO CERAMIC CO., LTD.

1980

In 1980, the company developed new devices like the quick glow system or QGS which provides electric control for the glow plug's temperature to enhance the startability of diesel engines.
1970s
1979

Improvements in drivability and consideration for the environment have been required all over the world. The company developed the green plug featuring a V-shaped groove at the end of the center electrode to improve ignitability.

1974

NGK Spark Plugs established the Nichiwa Kiki Co, Ltd in 1974 and started to produce spark plug resistor covers and cables. Our motorcycle and general-purpose plug caps and racing cables suppress electromagnetic interference generated by the engine's ignition system. The NGK range of resistor covers provide the perfect connection between the high tension lead and the spark plug.

● Started the operation of Kagoshima-Miyanojo Factory. (Kagoshima prefecture

● Established SIAM NGK SPARK PLUG CO., LTD.

● Established NITTOKU UNYU CO., LTD.

1973

The company started the manufacture of temperature sensors for automobiles to monitor the exhaust gas temperature for the optimal control and protection of exhaust gas after-treatment system of its exhaust system parts. The exhaust temperature sensor serves as a monitor for turbochargers, catalytic converters, diesel particle filters and nitrogen oxide reduction systems. It is used for monitoring the optimal operating point and serves as a protection against temperature overload of its relevant components making it an important component for the reduction of unnecessary harmful emissions from vehicles. We contribute to the improvement of clean and fuel efficiency of the exhaust gas.

1971

NGK Spark Plugs developed a resistor plug for radio noise prevention. In addition, the company released a number of other plugs such as surface discharge plugs for outboard motors, compact plugs for chain saws and lawn mowers, and igniter plugs for aircraft gas-turbines.
1936 - 1969
1967

NGK Spark Plugs developed a metalization process on the surface of ceramics. This gave the company the ability to create a harmetic seal between the ceramic and its metal parts. Because of this technology, the company then started the manufacturing of ceramic IC packages.

1963

Manufacturing of metal type glow plugs started in 1963. The glow plug is used to assist in the start-up of diesel engines. They maintain optimum starting capabilities and offer excellent post-glow function promoting clean combustion and lower toxic emissions. They are manufactured with state of the art techniques with dedication to quality which leads to outstanding reliability.

1962

NGK Spark Plugs Komaki Factory in Aichi prefecture, Japan started its operation.

1961

Established NITTOKU SEISAKUSHO CO., LTD.

1959

The Ceramica E Velas De Ignacao NGK Do Brasil S.A. (the present Ceramica E Velas De Ignacao NGK Do Brasil) was established.

1958

We started the manufacture of ceramic cutting tools, inserts, and copper-cored wide range spark plugs for good thermal conductivity. A wrinkle (corrugation) was provided on the head of the insulator to improve the electrical insulation performance and that lead it to become a pioneer product in the automobile industry.

1953

Igniter plugs for aircrafts were developed. This plug is designed with a high-purity aluminum insulator and a special alloy that can withstand high spark energy, high voltage, high temperature, and high-pressure gas.

1949

Started the manufacture of NTK Technical Ceramics.

1937

Started the manufacture of NGK spark plugs.

1936

NGK SPARK PLUG CO., LTD. was established with a capital of 1,000,000 yen.

Since then, NGK has lead the industry in technology, innovation and world class design of its entire product line. You can depend on NGK for quality and reliability.